The Grip and Electric companies that illuminate Miami's TV and films sets.
By journalist at large Alex Alvarez.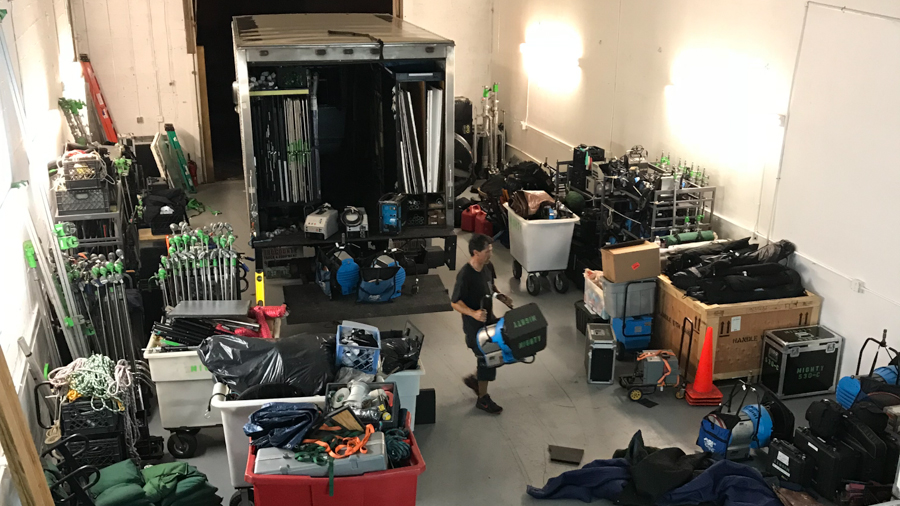 Picturesque Miami Florida has been host to numerous films and TV shows over the years, this is thanks in part to its sleek modern locations, sun baked beaches, and to its studios, rental houses and post production facilities. Every production company has their own gear, but when a project gets to big for its britches where do you go for grip and electric assets in Miami? Well look no further. Because we are a Miami video production company, we have compiled a comprehensive list of G&E rental houses for folks looking gear up for their bigger Miami and south Florida based projects.
Digital flamingo
2010 SW 100th ave
Miramar, FL 33025
786-547-8547
https://www.digitalflamingo.com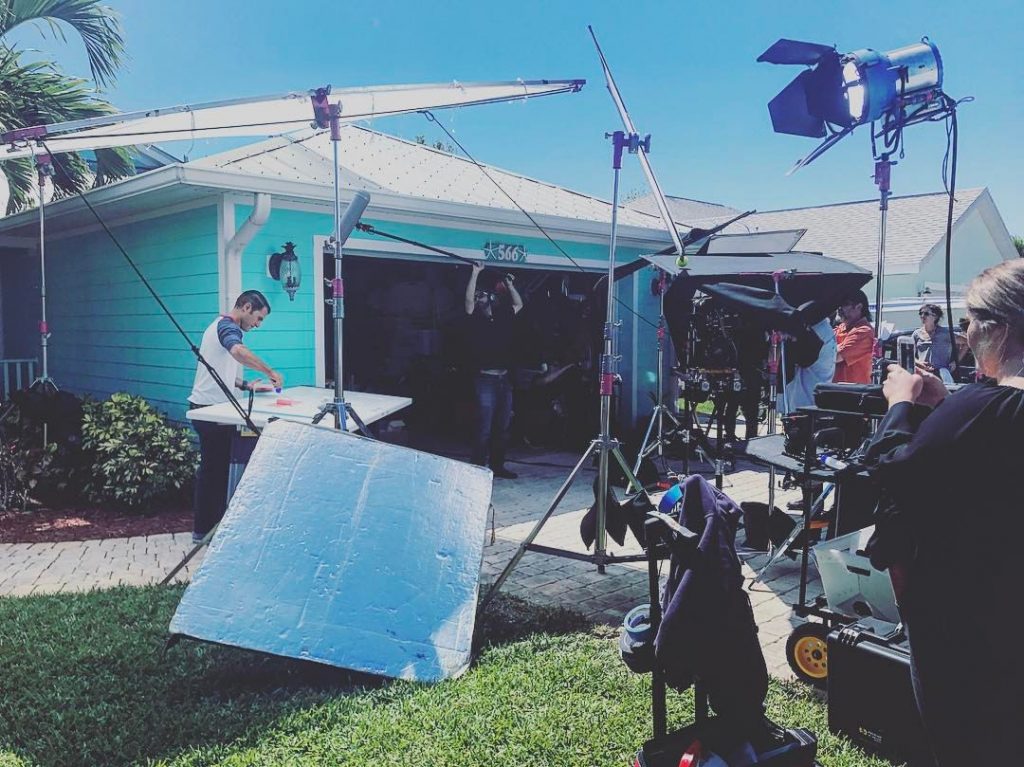 Digital Flamingo was started by Ralph Gonzales as a small company with one van full of gear, and has in the years since expanded and become one of the most reliable and respected grip & electric companies in Miami. They are a family owned operation and offer 1, 3, 4, and 5 ton truck packages, generators and power distribution, as well as intuitive knowledgeable G&E crews. They have a variety of lights and the crew to suit your production needs. Digital flamingo will consult with your team to get the perfect package for your project and budget. In addition to providing G&E packages in Miami, they have recently expanded to the west coast and offer a "satellite" package in Los Angeles area.
Filmtrade
1280 NW 74th street
Miami, Florida 33147
305-547-1202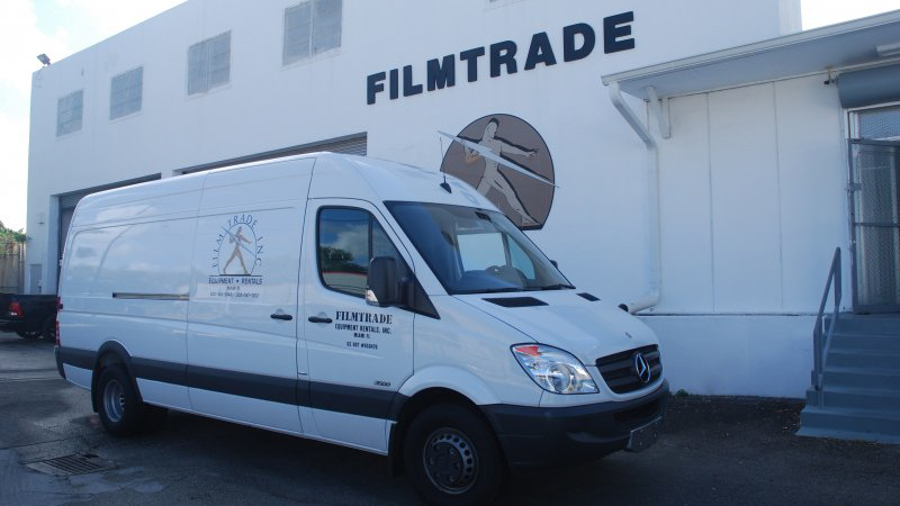 Filmtrade has been in the production game 25 plus years and provides G&E assets for many of the larger commercials, films music vids and sports events in south Florida. In addition to their dollies, generators and lights. They offer a variety of grip and electric packages, everything from a small eng package with a sprinter van, to a cube truck or 3, 4 and 10-ton truck packages. Filmtrade has the gear and vehicles to suit a production of any size and scale.
Magic 2 lighting and grip
15414 NW 34th ave
Opa Locka, FL 33054
305-685-1811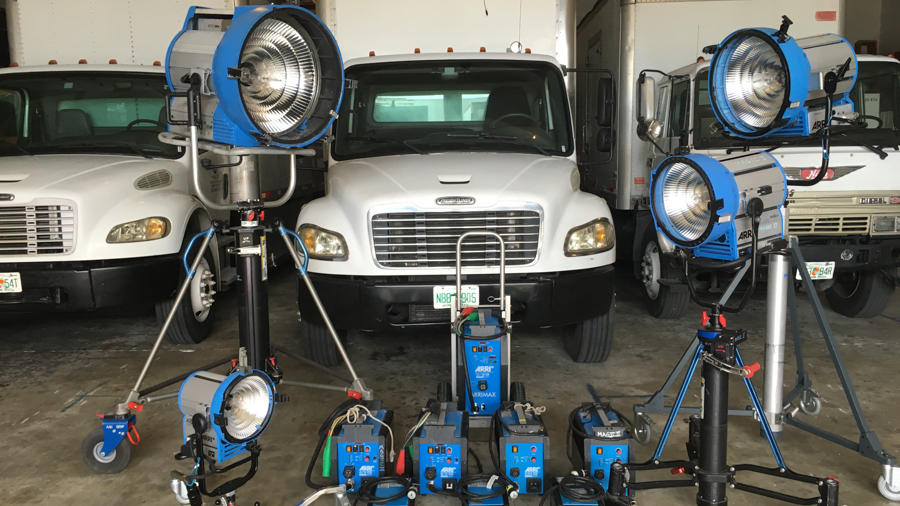 The folks over at Magic 2 get your production ready for any budget they will consult with you to provide a comprehensive package that will suit your on set creative needs. They own numerous trucks from 3-10 ton and In addition to their lights equipment and gear. They also offer production services and have tents, tables and director's chairs as well as staff. Magic 2 service the southeastern the Caribbean and us. Although open 8:30am -5pm they also offer 247 on call support and delivery
Mighty grip and lighting
101137 NW 46th St
Sunrise, FL 33351
954-914-4164
http://www.mightygripandlighting.com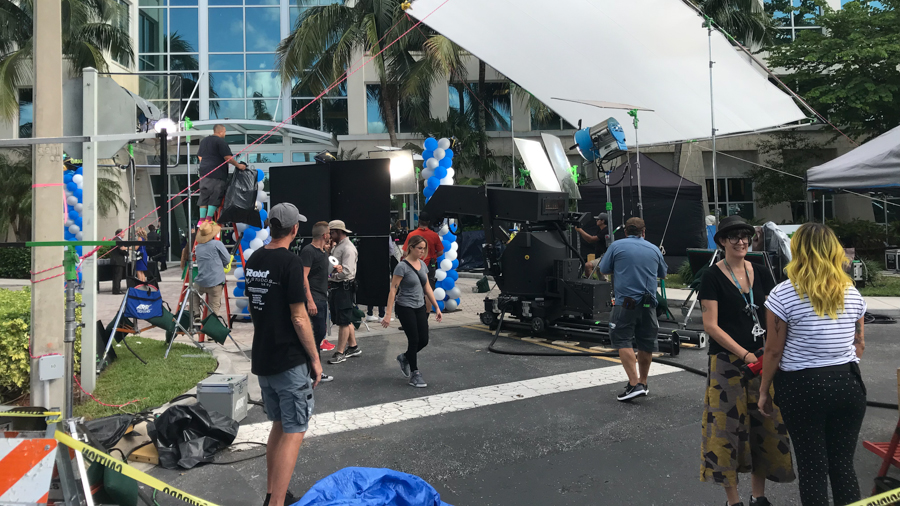 Mighty Grip and lighting was founded and is owned and operated by Jay Shropshire, A Miami production local who has years of experience on sets as a gaffer, and DP for films and TV. Mighty G&E formed in 2010 and has since excelled in the G&E realm and become a staple of the local Miami production business. Providing grip trucks, generators, lights, rigging, jibs, dollies and more for a variety of South Florida productions and shoots. Mighty Grip and Lighting are a reliable and organized outfit and capable of fulfilling all of your G&E needs.
Striking grip and lighting
16612 SW 58th Terrace
Miami, Florida 33193
305-989-1854
Striking Grip & Lighting Corp, started by the infamous Tony Font, are a smaller G&E outfit that opened their doors in 2009, and have proved to be a reliable organization in the lighting systems, and equipment industry ever since. Providing the Miami production business with solid G&E support and rentals. Striking G&E brings 18 years of on set experience, and offer grip trucks, stakebeds, generators, dollies, hmi, tungsten, etc. The guys at Striking Grip and Electric are available 247 for deliveries and support.
—
Whatever the job may be, youll be sure to find a handful of options when planning your video production in Miami, Florida. If you need any help, feel free to contact CHROMAHOUSE for consultation.